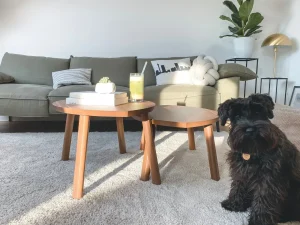 Following a time of being in your home more than ever, the New Year is a great opportunity to hire a cleaning company. Pro-Steam offers the perfect solution with our Healthy Home Package. Our Healthy Home Package is a deep clean of your carpets, upholstery, mattresses, and air ducts. Unfortunately, the more living spaces are used, the dirtier they become. Even if you clean regularly, you can't remove all the contaminants in your home. But a professional cleaning company like ours has the training and tools to take cleaning to new heights. After Pro-Steam is finished, your home looks and smells refreshed. Our processes sanitize and reduce allergens as well. The Healthy Home Package starts with a 30-minute evaluation by a Pro-Steam technician. The technician then prepares a recommendation and quote for the cleaning services needed. And don't worry – if you don't want a full package, our carpet, furniture, and upholstery cleaning services are available individually.
Why Use a Professional Carpet Cleaning Company?
Your carpet serves a few purposes. First, it adds comfort to a space. Also, it acts as an insulator. Finally, carpets add aesthetic appeal. So of course you want your carpets to look their best. While carpets add positive features to your home, they also come with some negatives. Your carpet acts as a large filter. It holds unhealthy pollutants like pet dander and dust. When carpet fibers are full of these substances, they release allergens into the air. And carpets trap odors, animal fur, and urine. Not to mention, they hold onto dirt and stains. Vacuuming alone doesn't solve all of these problems. This is why it's recommended to have them professionally cleaned once a year. We use a hot water extraction process to 
clean your carpets 
as part of the Healthy Home Package. Steam cleaning is the commonly-used term for this process, but is not completely accurate as real steam isn't used. The process used by Pro-Steam starts by applying a hot cleaning solution to the carpet. After this, the dirty solution is extracted right away with a machine. The benefit of this process is that it acts as a "flush" for your carpets. The result is carpets that look and smell clean again. Any family members or visitors to your home with allergies receive relief when in your home. Additionally, when your carpets look clean, it makes your entire home look fresh.
Upholstery and Mattress Cleaning
The materials in your upholstery and mattresses are another source for holding dust mites, odors, and pet dander. Over time your furniture and mattresses begin to look dirty if they're not thoroughly cleaned. As part of our Healthy Home Package, we 
clean your upholstery and mattresses 
with professional tools and equipment. Our technicians use water that is 230 degrees in this process. The result is clean fabric and upholstery that is also sanitized. Your furniture looks renewed after we clean it. Another benefit of having upholstery and mattresses professionally cleaned is that it releases trapped odors.
Air Duct Cleaning as Part of your Healthy Home Package
Once your carpets, upholstery, and mattresses are clean, don't forget about the air in your home. Having your air ducts professionally cleaned removes dirt, dust, mold, pollen, and pet dander. Mold and germs are removed as well, and your home's air quality is improved! Pro-Steam uses a powerful vacuuming and multi-step cleaning process to remove the contaminants in your air ducts. After 
air duct cleaning
, homeowners notice less dust build-up. The added bonus of a clean air duct system is the improved efficiency of the home's HVAC system. For a squeaky clean and healthy home, 
contact
 us today!