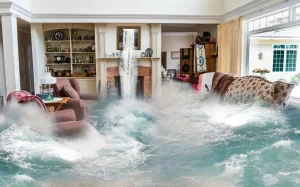 It's alarming to see that your home is flooded. Don't panic – Pro Steamer Cleaning and Restoration is on call for emergency flood clean-up in Roswell. When your home is filling up with water, there are important steps to follow. You want to make sure that you and your family aren't in danger first. After that, check to see if it's possible to stop the flow of water. Then, contact your insurance company and Pro Steamer Cleaning and Restoration.
What is Causing Your House to Flood?
There are many reasons that your house may flood, and it's often unexpected. When it's weather-related, you may have some notice. In that case, take precautions to prevent water from entering your home. This is a way to keep damage to a minimum. If water is coming from inside your home, it's critical to shut off the main water supply as soon as possible. Once you have the situation under control, contact a company like 
Pro Steamer Cleaning and Restoration
 that specializes in emergency flood clean-up in Roswell. We know how to assess the damage and determine what needs to be done to remedy it.
Dos and Don'ts for When Your Home is Flooding
First, do not wade through water with electrical outlets or wires. If you can, shut off electricity at the circuit box right away. Also, unplug any cords in outlets that you can access safely. If you aren't able to do either of these things without putting yourself at risk for shock, call an electrician. The next thing is to document the flooding and damage. This is very helpful for filing a claim with your insurance company. The easiest way to do this is to take photos with your smartphone. Contacting your insurance company as soon as possible is an essential step. You need to know exactly which repairs and clean-up work your insurance policy covers. Do remove any items from the home that are dry and salvageable.
Cleaning Up After the Flood
Before you attempt to tackle the clean-up process yourself, be aware that it requires a lot of time and work. There are many items necessary to do a proper job that you may have to purchase or rent. Sump pumps, large fans, and a wet vacuum are just a few examples. Renting a dumpster might be necessary if there are many items that can't be salvaged. There are also some health risks involved with flood clean-up. You need to wear rubber gloves, waterproof boots, and a dust mask while working. Additionally, once areas are dried out, it's important to clean them with a disinfectant.
Professional Emergency Flood Clean-Up in Roswell
If this sounds burdensome, we understand. Pro Steamer Cleaning and Restoration is available for flood clean-up 24/7. We have decades of experience with emergency flood clean-up in Roswell. We know this is a stressful situation for homeowners, so our goal is to resolve the problems quickly and efficiently. Hiring a professional company like ours eliminates many of the worries associated with a flooded home. After we assess the situation, we go to work right away extracting the water. Next, we start the process of dehumidifying and drying out damp areas. Finally, we clean, sanitize, and deodorize your home.
Don't Delay the Clean-Up Process After a Flood
It's crucial to begin the water clean-up process as quickly as possible. Water can damage the structure of your home, furnishings, and personal items. Acting quickly can help reduce the extent of the damage. And remember, the longer water remains, the chances for mold and bacteria increase. A flooded home is an emergency, but remember there is a trusted professional you can count on in this situation. Pro Steamer Cleaning and Restoration is a family-owned company that takes pride in customer service. We work hard to get your life back to normal after a flood. When your home is flooded, don't hesitate to 
contact us
 right away!