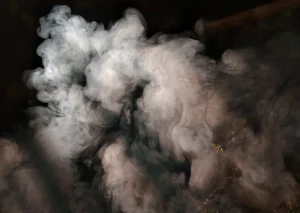 There's a smell floating through your home's air…and it isn't fresh-baked cookies. You've got a smoke problem, and you're not sure how to get rid of it. You're not alone. 
Conquering smoke odors
 is a difficult task alone. During smoke damage restoration, 
removing
 smoke odors is one of the most critical tasks a professional service can accomplish. But how does someone go about removing the smell of smoke from a home? Here's how the smoke damage restoration masters at Pro-Steamer Cleaning kick smoky smells to the curb.
Why Is It So Hard To Get Rid of Smoke Odors?
If you have a 
smoke odor problem
, you've probably tried all the DIY solutions before seeking professional help. Burning scented candles and sticking out bowls of charcoal can't put a dent in smoke damage, but it's not for lack of trying. Even painting over the walls of a home won't stop smoke from recurring! Smoke is extremely invasive; it delves deeper inside the walls, carpets, and materials of a house the longer it goes untreated by professional methods. Unfortunately, that invasive nature makes DIY smoke damage restoration nearly impossible. Smoke can literally move from the living room and take up residence behind the walls or enter another room! What's more, most homeowners simply don't have the technology required to remove smoke from the hidden nooks and crannies of a home.
How Do Professionals Remove Smoke Odors – Permanently?
The team at Pro Steamer Cleaning uses state-of-the-art technology with tried and true techniques to get rid of smoke odors, but it isn't always a "one method suits all" situation. Professional smoke damage restoration specialists employ a variety of machines to remove smoke odors from the home, including:
Cleaning Equipment
When removing smoke damage from a home, professionals should always start with a deep clean. Smoke residue adds odor to a home, and it needs to be physically removed to prevent it from worsening. Additionally, ash and soot from a fire will contribute to the smoke smell. Experts remove all damaged property and clean a home before removing the remaining smoke odors. Shop vacuums, brooms, and even mops are employed during the cleaning process.
Hydroxyl Generators or Ozone Generators
Hydroxyl generators and ozone generators may as well be called "air cleaners." Hydroxyl generators and ozone essentially tear the smoke particles to bits. These generators can get to smoke hidden in carpets, lingering in the air, and even smoke behind the walls.
Sealants
Professionals use heavy-duty sealants to prevent smoke from emerging out of porous surfaces of walls and flooring. Wood exposed to smoke is prone to releasing that smoke back into the air, but the smoke is stuck for good when it's properly sealed.
HEPA Filters
Smoke comes with a lot of accessory chemicals. Whatever materials were burned by a fire go into the smoke. When synthetic materials or chemicals are burned, they are spread through the smoke, making the smoke harmful to breathe. Professional smoke damage restoration companies use HEPA filters to rid the air of these harsh chemicals and materials to make it safe for you to breathe again. Using a combination of these technologies, smoke damage restoration services can remove and contain the smoke odors of a home, preventing them from spreading or becoming a lingering problem. If your home is suffering from smoke odors, give the team at Pro-Steamer Cleaning and Restoration a call at (575) 623-0993. Our staff will be happy to take care of the unwanted smells for you!