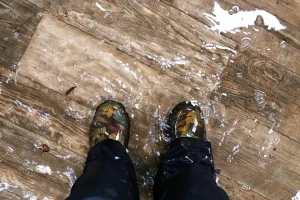 We understand that water damage is a devastating emergency. Whether the water comes from a burst pipe, an overflowing bathtub, or even floodwater, the water must be removed from your home as quickly and professionally as possible to mitigate further damage. Don't trust your home to just anyone. You want a professional to handle your water damage restoration. Only professionals, like ProSteamer, have certified technicians with training, equipment, and know-how to restore your home to its pre-loss condition.
Your First Steps
Call ProSteamer as soon as you discover water damage. The faster we can begin the extraction and drying process, the sooner we can mitigate damage. As a professional water damage restoration company, our goal is to return you to pre-loss condition as quickly as possible.
Cut your power. If it is safe to do so, cut the power to your home. Water can destroy electrical wiring, leading to a dangerous situation for all involved. If it is not safe, call the power company as quickly as possible.
Call your insurance company. Be sure to ask about your deductible and any special instructions regarding water damage restoration. Every insurance company is different, so be sure to ask about the type of documentation needed and if an adjuster will be coming to inspect your damage.
Document.  As soon as it is safe, document your damage using both photos and videos. This documentation will help when filing your claim. If you have independently insured heirloom furniture or artwork, be sure to document damage to those pieces separately.
What to Expect
Extraction & Drying. The most crucial step in water damage restoration is water extraction and the drying process that follows. Our trained and certified technicians use only the most effective technologies, like hi-tech moisture meters, dehumidifiers, and industrial fans, to accomplish this task as quickly as possible. With new technologies available, we can save as much of your original structure as possible. Once all moisture is gone, we can decide together what items are salvageable.
Repairs. Depending on the damage caused by the water, it may be that repair is necessary. Many find it reassuring to deal with only one company for the entire process.
Restoration. Our goal is to return your home to pre-loss condition as efficiently and safely as possible. We will work diligently to restore all that was damaged.
About Us
ProSteamer has served our friends and neighbors in Roswell since 1992. We are licensed, insured, and IICRC Certified. ProSteamer provides honest prices and work. Communication is key. We will keep in touch with you throughout every step of the water restoration process. Trust the professionals. Your satisfaction is guaranteed!