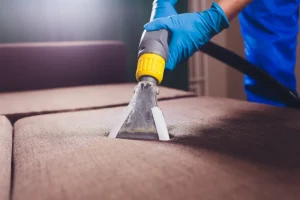 With the holidays just around the corner, there has never been a better time to have your upholstery cleaned by professionals. For nearly three decades,
 the specially trained technicians at Pro Steamer
 have served our Roswell friends and neighbors with top-quality professional cleaning and restoration needs. If it's been a while since you've had your upholstered furniture professionally cleaned, you may have already noticed these four reasons professional upholstery cleaning matters: surface dust, embedded particles, unusual smells, and quite possibly an increase in allergy issues.
Upholstery
Whether your upholstered furniture is a family heirloom or brand-new, it's essential to keep it clean. Scheduling a deep cleaning with Pro Steamer every six to 12 months is the best way to ensure your upholstered furniture stays in top condition. Not sure you need professional cleaning? Try these three tried-and-true tests and see how you feel about the cleanliness of your upholstered furniture afterward:
Pull your favorite ottoman or chair into direct light. Using a broom handle or even a wooden spoon, pop the furniture gently but firmly. Notice how much dust is released into the air. Even after vacuuming, there is no way to get all that embedded dust, dirt, and pet dander out of your upholstery without professional cleaning tools and cleansers.
Drape a black cloth over the hand-held suction hose of your vacuum cleaner and wrap it with a rubber band, securing it over the suction opening. Run this cloth and vacuum over a couch cushion. Do you see fine particles on the black material?
Try this same method with a white terry-cloth towel. Spray a small amount of Windex cleaner on the towel and scrub it across the arm of Dad's chair. Did you pick up some dirt and grime?
Exhale deeply. Place your noise 3" above your couch cushions and, while inhaling deeply, waft the air toward your nose with your hand. Smell anything unusual?
None of these tests are to prove you are a "bad" housekeeper. Upholstery is notoriously tricky to keep clean on your own. Over time, dirt, soil, allergens, and pet dander get embedded into the fabrics of your furniture, and they're just impossible to get out by yourself. That's where 
Pro Steamer
 comes in!
How to Start
Give us a call to inquire about pricing and scheduling. Feel free to ask our specially trained team members any questions you may have about our cleaning process and products. When we arrive, we'll treat your house as if it were our own. We use 230-degree hot water, professional cleansers, and tools that will not damage your upholstery. We can also apply protectant to your cleaned upholstered furniture so that it is more difficult for future stains to penetrate the fabrics on your sofas, loveseats, sectionals, and ottomans. With our 100% Customer Satisfaction Guarantee, you will not be disappointed. Pro Steamer leaves your house looking and smelling better than ever. We can also clean drapes and flooring. When you call, ask about special pricing for bundled services. Let Pro Steamer get your house ready for the hustle and bustle of the holidays with a professional upholstery cleaning today!