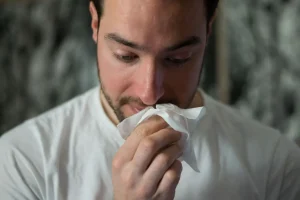 You likely already know that mold can slowly destroy your home, but did you also know that it can make you sick? Mold is a type of fungi that develops in dark and humid conditions. Oftentimes, it can be the result of water damage. If you walk into a room and suddenly start to cough or sneeze and aren't sure why, it may be a sign of a mold infestation. Learn why mold can make you sick and how a 
mold remediation
 company can help your health.
What is Black Mold?
While the term 
black mold
 is used often, it's important to know that it doesn't refer to a single type of mold. However, in most cases, when the term
 black mold
 is used, it's often referring to 
Stachybotrys chartarum
 – a blackish mold that develops on common household furnishings like carpet, drywall, and insulation after they have been exposed to moisture.
Respiratory Issues and Other Medical Conditions Caused by Black Mold
Black mold can cause a host of respiratory and non-respiratory issues, including but not limited to the following symptoms:
Chronic coughing
Sneezing
Wheezing
Rashes
Watery eyes
Chronic fatigue
Persistent headaches
Sinusitis – Inflammation of the tissue lining the sinuses
Sore throat
Congestion
Those who are allergic to mold spores can suffer severe symptoms such as nausea and vomiting. In some cases, people may even suffer bleeding in both their nose and into their lungs.
Long-Term Side Effects of Black Mold Exposure
Unfortunately, prolonged exposure to black mold can also have detrimental effects on your mental health and wellbeing. Many studies have found a link between toxic mold exposure and confusion, anxiety, memory loss, and even depression. In some cases, patients even suffered from nightly insomnia after prolonged exposure to black mold. Even worse, breathing in toxic black mold can lead to muscle cramps, hair loss, weight gain, and limb numbness.
Who Is Affected By Black Mold? 
Black mold can affect anyone at any stage of their life. However, it tends to severely affect those who are immunocompromised, young children, and the elderly – all populations that may not be able to fight off any respiratory illnesses.
Contact Pro Steamer Cleaning and Restoration to Schedule Mold Removal Services Today
The best way to deal with mold is to remove it from your home completely. Unfortunately, Toxic Mold Syndrome is severely underdiagnosed, with many of the symptoms being attributed to other illnesses. If you or someone you love is getting sick when they come in contact with your walls, carpet, or another room in the house, don't delay in getting a mold remediation specialist out there as soon as possible to take a look.
Mold
, when left untreated, can lead to a host of different health conditions that can make living your daily life unbearable. If you recently suffered a water leak or notice black dots on your walls, floor, or tile, call the mold remediation professionals at Pro Steamer Cleaning and Restoration as soon as possible: (575) 623-0993.