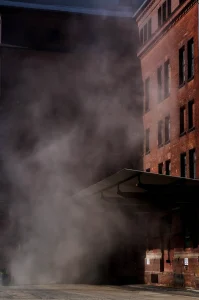 When your house suffers a fire, there's a lot of clean-up required. Even a small fire can still leave behind big messes. 
Smoke damage restoration
 is about more than just opening your windows and turning on a few fans. Smoke can cling to surfaces, hide within fabrics, and linger in the air long after a fire is extinguished. Here are some tips to help refresh your home after being exposed to smoke.
Floors
Before getting started on anything else:
Go through the areas of damage and clean up the floors. This will give you a fresh and safe space to work on (slipping on soot is no joke).
Carefully use a vacuum to suck up all the soot and ash.
Work slowly, as moving too fast can push the mess around, making it harder to clean and more widespread as it travels through the air.
If you don't have a smoke-specific vacuum or heavy-duty dry vac, use the upholstery attachment on your regular vacuum. This will help capture the smaller smoke and ash particles while keeping the damage from spreading.
Walls and Ceilings
Smoke isn't just a vapor in the air. Particles of smoke can cling to just about any surface. Your walls and ceilings could be retaining smoke and smoke damage without you even knowing it. After a room has been exposed to smoke, make sure to try and clean the walls and ceilings, even if there's no visible soot or ash in the area. To clean your walls and ceilings:
Mix a mild detergent with tri-sodium phosphate and chlorine bleach in warm water.
Use a soft sponge or cloth to clean, starting from the bottom and moving up.
Be sure your cloth or sponge isn't too damp, and rinse each area with clean water after.
Dry out each section after to prevent mold.
And always remember to wear gloves when working with cleaning solutions.
Protect Yourself
Smoke damage can affect your health as well as your house. When working on restoring smoke damage in your home, be sure to wear the proper protective equipment, even if the air looks clean. Goggles will prevent dust and ash particles from getting in your eyes, and a filtered mask will keep the smoke out of your lungs. Make sure you're wearing clothes that you don't mind getting dirty and that can be washed. Wear heavy-duty rubber gloves, long sleeves, and pants to protect your skin.
Upholstery
Fabrics are the most susceptible to smoke damage, and your clothes, rugs, and furniture are likely suffering. To help get rid of the smell, wash your clothes in cold water, and add a tablespoon of vanilla extract with your laundry detergent. For furniture and other upholstered items, find a cleaning product containing tri-sodium phosphate to freshen them up and keep them clean.
Smoke damage restoration
 for your home doesn't have to be a chore! Give the Pro Steamer Cleaning and Restoration group a call at 575-623-0993, and we'll help you get your home back in shape.