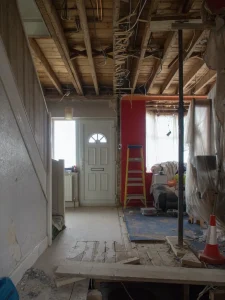 Finding the best 
restoration company
 for your home should involve more than just doing a quick internet search for what's around. When your home is struck by disaster, you want to make sure you have the best possible workers fixing it up. But how do you find the best company for you? How do you know if the company you want to hire is good for you and your home? Here are a few things to look for when researching.
Certifications
Most restoration companies will have some combination of certifications and licenses. A good restoration company will list these on their site in an easy-to-find location, usually somewhere on their home page. If you're looking into a company and can't find any badges or links declaring they've been certified or licensed, you should think twice about hiring them. At the very least, contact them first and ask if they've been certified. A company's most common and trustworthy certification is through the IICRC (Institute of Inspection Cleaning and Restoration Certification). If the restoration company you're looking at doesn't have IICRC certification but has other certificates and licenses listed, do some research on those groups. Some are well established and specific to certain types of home damage. You want to ensure that the company supplying the certifications is dedicated to upholding industry standards and doesn't just give out certificates for anyone who pays for one.
References and Insurance Coverage
After you've determined that your chosen company is properly certified, check for previous customer testimonies or call and ask for references. If they are unable or unwilling to provide these, that could be a red flag in moving forward. Testimonies and references are an excellent way to see how the technicians operate and communicate. It's also the best source of information on how well the restoration company will work with your insurance, should you have any.
Estimates and Timelines
The best restoration companies will provide you with a clear and concise cost estimate, along with a scheduled timeline of when the work should be completed. If you have a company come do an inspection and they don't provide these, they may not be reliable. A reasonable estimate will have a range, but it shouldn't be too large. A cost estimate of $1000-$1500 is okay, but $500-$5000, not so much. Keep in mind that some problems can arise during the restoration that weren't known beforehand. Still, your technician should always keep open communication with you about what to expect should that happen. You want to make sure your home gets the best restoration it can after a flood, fire, or any other damaging event. Finding the
 best company for restoration
 can take a lot of work and research. Pro Steamer Cleaning and Restoration is an IICRC certified company that provides quick and efficient restoration services to the Roswell and Artesia areas. Call us now at 575-623-0993 for help restoring your home.