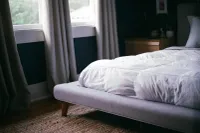 How nice it feels to climb into bed after a long, hard day. Stretch out. Fluff the pillow. Nestle into the covers – and then "Achoo!" How many times has this happened to you? These sneezes could be an indicator that your mattress needs professional cleaning.
At Pro Steamer,
 our professionally trained technicians know that even with regular bedding changes and an anti-dust mite cover, mattresses contain the highest amount of dust mites and dirt particles in your home. Because you use your bed every day, your mattress collects dry skin cells, sweat residue, and body oils that accumulate over time. No wonder you're sneezing!
Air Quality
It is vital to maintain good air quality in your home. Each time you lie down on your mattress and then move around to get comfortable or flip and flop with restless sleep, you stir up allergens within the bed. Because your face is so close, you'll inevitably breathe in these particles. Breathing in these allergens can cause itching, throat and eye irritation, coughing, sneezing, and other respiratory issues.
Allergy Control
If you suffer from severe allergies or asthma, you are likely already taking significant precautions to ensure good air quality within your home. However, if you're not professionally cleaning your mattresses as a part of those efforts, you are unknowingly ignoring an essential part of your clean home maintenance. Minimizing exposure to dust and dust mites is critical. Over time, mattresses collect dust, dust mites, body oils, and dead skin cells. RIdding your home of these dense exposures can drastically improve allergy issues overall.
Comfort and Confidence
Once you've had Pro Steamer professionally clean your mattress, you will be able to feel the difference. Not only will you stop sneezing, but you'll have the peace of mind that you've done everything you can to improve air quality and eliminate allergens from your home. Just imagine your first night's sleep after a professionally cleaned mattress, with clean sheets and clean bedding. Change that "Achoo!" into "Aahhh!"
About Us
With the holidays right around the corner, there is no time like the present to 
call Pro Steamer for a FREE estimate
. Be sure to ask our trained technicians about potential price savings by bundling services, like mattress cleaning, upholstery and drape cleaning, and floor care. Pro Steamer has been serving our Roswell friends and neighbors for decades. We treat your home as if it were our own. With a 100% satisfaction guarantee, we promise you will be pleased with our work or your money back. When you call 
Pro Steamer on Sunset Avenue
, you're getting IICRC certified technicians who utilize the latest professional cleaning technologies and know-how. We schedule your appointment quickly to get the job done. We take our time and do the job correctly. Your satisfaction with our work is our top priority. Pro Steamer doesn't cut corners; we clean them! Call us today to get your home in tip-top shape. You won't be disappointed.