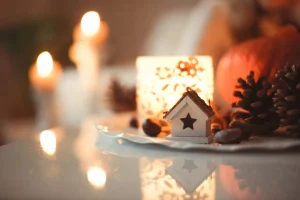 The holiday season is upon us, and for most families across the country, that can only mean one thing – holiday cleaning! Whether you are inviting family to come to visit, or you're playing the holidays safe and staying home with immediate family, no one feels good about celebrating over dirt, grime, and clutter. There has never been a better time to allow our 
trusted, trained technicians at Pro Steamer Cleaning & Restoration
 to handle this extra chore for you! Family-owned and IICRC Certified, our trained technicians have served Roswell and the surrounding communities for decades. With experience and proven techniques that make every house sparkle and shine, we can transform even the most lived-in, well-loved home into a super-clean showplace. Pro Steamer's 
Healthy Home Package
 is the perfect solution for your holiday cleaning. Allow our technicians to provide you with a 30-minute home evaluation, which includes:
It doesn't take long for well-tracked carpets to look dingy and dirty. We all know all the vacuuming doesn't clean stains. Our professional carpet cleaning process rids your carpet of stains, and the embedded dirt, grime, pet dander, and allergens that get trapped inside carpets can leave them dirty and smelly.
Not only do air ducts circulate air throughout your home, but they also pick up microscopic dust, pet dander, and allergens into their systems. Every time you walk over your carpet or flop down in your favorite chair, microscopic dust, pet dander, and dead skin particles float into the air, getting recirculated through the air and into your air ducts. A thorough air duct cleaning once a year will reduce the number of allergens circulated into your home and increase the productivity of your HVAC unit. With quality cleaning, you will notice a difference in the way your home smells, and you may experience a decrease in allergy issues, too.
If you've never had your upholstery cleaned, now is the time! Upholstery fabric holds dust, dirt, pet dander, and unpleasant odors. Get that stinky sock odor out of the couch before the relatives come to visit with a professional upholstery cleaning from Pro Steamer. A thorough cleaning gives upholstered furniture a spit-and-polished look and a much better smell!
We are always surprised at the number of clients who have never thought about having their mattresses professionally cleaned. Even with regular bedding changes and a quality mattress cover, mattresses still collect dust mites, dirt, body oils, and dead skin over time. Our safe and effective cleaners will leave your mattress looking (and feeling) so much better, improving your air quality, allergy management, and peace of mind! Allowing Pro Steamer to take this holiday cleaning chore from your already-long to-do list is worth it. Together, we can formulate a plan to meet your family's specific needs. 
Pro Steamer Cleaning and Restoration
 will help you get your home merry and bright this holiday season. Call us TODAY!